---
Abduction 2021 – EDM Festival return from this April
Written by Davide on February 25, 2021
Could this pandemic be fought by an Alien Invasion? Perhaps… yes! Ok, ok, we are joking… But not too much! The Insomniac head-man Pasquale Rotella announces that this April, some DJs could return behind the decks for an event named Abduction 2021.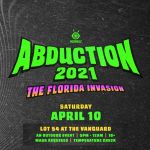 The EDM Festival that will take place in Orlando (FL) on Saturday 10th April 2021, will host 14 DJs from all around the world in two different stages. The lineup is composed of leading artists such as Tchami, Diplo, Virtual Riot, Dombresky, and many more. The theme of the festival will be "Alien Invasion!" (see the trailer below).
Before you ask, this event's safety will be ensured because it will take place in a large open space, and an always-on-mask-policy will be enforced before entering. Plus, your temperature will be checked, and then you will safely dance thanks to the reduced capacity. So could this be the official start of the new Festival Season in Florida? We cannot wait to go back to the (alien) dancefloor.
| More info & tickets | Event Maps | Fast FAQs | Full LineUp |
---
Reader's opinions
---