---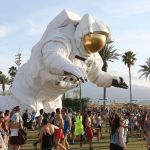 Coachella joins the NFT world like many events, DJs, and producers in the Dance music world. The trend started in 2021 and has seen the involvement of many of the best artists of the Dance. Indeed, the ability to create and sell their digital works as NFT is a quickly growing trend.
Through the FTX US platform, Coachella recently announced the possibility to purchase the "Coachella Keys Collection," NFT that will offer various options to the fans of the Californian festival. Among luxury experiences, private access to the Sahara-tent, culinary experiences, and, obviously, lifelong access to the festival. With such a purchase, you will have the opportunity to make unique every single edition of Coachella.
But, it does not end there. There are also several thousand Digital Posters for sale and in limited runs that you can grab as 'almost' one-of-a-kind pieces. Find more details on the website.
---
Reader's opinions
---