---
A State of Dance – The best of 2020 in Dance Music Scene
Written by Davide on January 26, 2021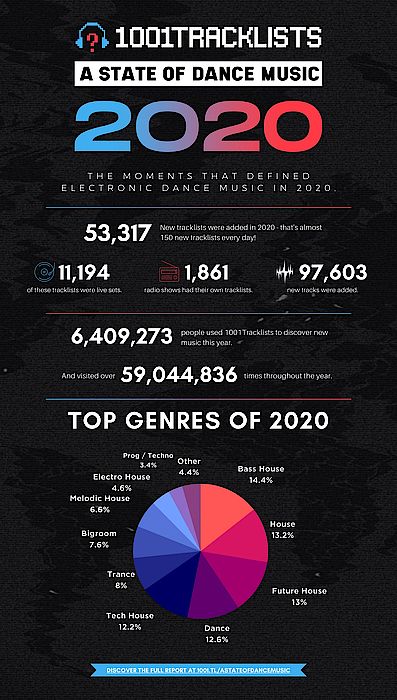 According to the famous web site who collect all the most important tracklists in the world, ndr 1001tracklists.com we finally got the 2020's results for all the most important things in the Dance music scene.
It was a critic year. All the clubs are closed, no festival, with a few exceptions like Ultra Taiwan (link), but statistics show a good grow up for the number of tracklists uploaded on the famous database. In 2020, 53k tracklists was written from all around the world and spoke about live streaming festivals, radio shows, charity events and more
These are the results for all the most important statistics from A State of Dance 2020 by 1001tracklists.com
Which was the tracklist who earn more views in 2020? W&W – 20XX – XR Live Broadcast
What is the music genre much present in these tracklists? Bass House Music
The best radio show: Hardwell On Air
Most Played Track: Diplo & SIDEPIECE – On My Mind
Best Label?: Spinnin Records
All the detailed results are resumed by the guy from EDM Lab HERE but there was also a kindly surprise from the Italian famous dj from mars who releases a megamix with the 50 most played songs that you can listen below.
---
Reader's opinions
---