---
COVID-19 cannot stop the music business in the USA
Written by Davide on March 9, 2021
COVID-19 pandemic is destroying dance music entertainment worldwide, we know it, but despite this, the music industry shows thumbs up!
More people listen to the radio because of the time spent at home, either working remotely or just chilling at home. Music is consumed in many different ways, either playing their favorite music through streaming platforms or enjoying on-demand DJ-sets and so on.
The Recording Industry Association of America's (RIAA) 2020 report that the music business lived a good year after all. This was confirmed by a +9% of revenue increase with 12 billion dollars. The growth is mostly powered by the revenues coming from the streaming platforms and vinyl sales. Still, online stores and social partnerships play a role. It is the 5th year in a row that the music business is literally on fire!
Read complete RIAA 2020 music report HERE.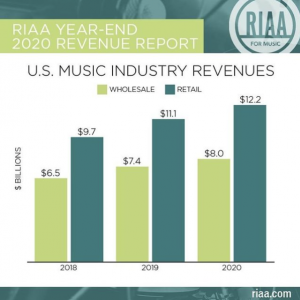 ---
Reader's opinions
---