---
A caveau for the whole music collection of the world
Written by Davide on July 22, 2021
This may sound like a science fiction movie, but it is all true. The Norwegian company Elire Management Group is building The Global Music Vault, an atomic vault to store all the best music in history will be in the case of an apocalyptic event.
Luke Jenkinson, CEO of the project, said that all the masters of world music history, without exception, will be digitized and stored in the vault's database. The technologies used will allow for data retention of more than a thousand years.
The vault will be located 300 meters deep in a mountainous area of the Svalbard archipelago off the coast of Norway. It will not be far from the Global Seed Vault, a facility for storing every variety of seed in the world.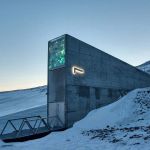 ---
Reader's opinions
---