---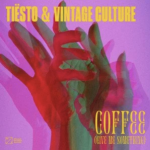 August gives us a present with a lot of new good music, includes the new one from Tiesto and Vintage Culture.
The new record from both artists mentioned is named Coffe (Give Me Everything) and is the confirmation of the excellent job made by both guys. This tune is not destined to become a planetary hit, but his sound is stunning, containing deep and g-house influences, and a lot of progressive synths. But the news is: Vintage Culture, thanks to his recent releases, reached an honored place in the Tiesto's whitelist.
Coffe (Give Me Everything) is out from August 14th.
---
Reader's opinions
---