---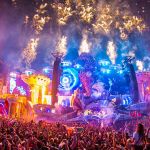 All major electronic music festivals scheduled for the course of 2020 have been canceled or postponed. Therefore the festival calendar has been completely destroyed by the pandemic and this has been a terrible blow to the entertainment and events industry.
Unfortunately, the bad news keeps popping up and the latest was the cancellation of Tomorrowland Winter 2021. After the festival was canceled, fans had no choice but to wait for 2021, however, it will take longer than we anticipated. Referring to the statement on the official Tomorrowland website.
"Tomorrowland Winter 2021 will not take place due to the uncertainty caused by COVID-19. Organizing a festival like Tomorrowland Winter requires a lot of preparation from both the organizers and the local partners. Given the lack of prospects for the coming months, Tomorrowland has no choice but to cancel Tomorrowland Winter in 2021″.
According to the publication made on the official website of Tomorrowland, it mentions that all people who have already bought tickets will be informed about the next steps. This event will upset many fans who were planning to attend Tomorrowland as the debut of Tomorrowland Winter in 2019 is known to be a huge success.
Be sure to visit the official Tomorrowland website for the latest information: https://www.tomorrowland.com/en/winter/welcome
---
Reader's opinions
---