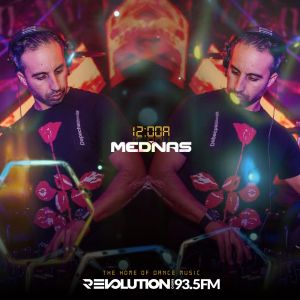 He was known amongst his friends for always having the latest music. So much so, that they would come over just to listen to his music collection. It was at this point that Mednas started dabbling in the art of the silver needle. He started DJing for fun and eventually began to be requested at parties. The word spread and so did his enthusiasm, which eventually led to the club scene.
Music was instilled in him at an early age, having been enrolled by his parents at the conservatory to learn the piano. However, he didn't stay long due to his rebellious nature, instead continuing his musical education by teaching himself, learning in this way the piano and the guitar.
At the age of 20, he moved to Madrid for his university studies. It was here that he started playing at major clubs such as Arena and Cool Ballroom. After Madrid, he moved back home for some seasons, where he spun at Pacha and Nikki Beach.
A waterman by nature (he's a former Moroccan national bodyboard team member), Mednas decided to move to Miami in 2008. Although the waves weren't that great, the beautiful women and the yearlong warm climate did hold allure.
Once in Miami, he paired up with Erick Morillo at Arkadia, to play at Morillo's Subliminal Sessions. The Subliminal Sessions eventually moved to LIV, where Mednas is currently resident DJ.
Attracted to all types of music, Mednas has as his base an eclectic musical repertoire, which remains open to new influences. The crowd is what energizes Mednas, and he adapts his set accordingly, feeling them in his beats. At the end, electronic music is the refuge where he can combine all his influences, spinning them into one awesome party.
Listen to Mednas Madness LIVE Fridays at 12AM EST at 93.5FM in South Florida or stream from anywhere in the world by downloading our app 'Revolution 93.5'