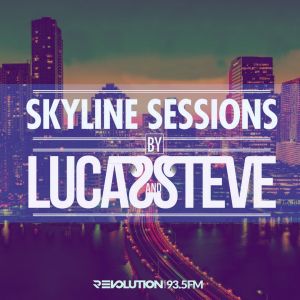 The star of Lucas Steve is getting brighter by the end of 2014, leading them to sign an exclusive deal with world famous label Spinnin' Records and MusicAllStars Management. It turns the duo into part of a new generation of fresh, aspiring house producers.
Countless hits follow, including a much acclaimed remix of 'Eagle Eyes' by Felix Jaehn feat. Lost Frequencies & Linying, and tracks like 'You And I Know', 'Calinda 2K15', 'Can't Get Enough', 'Love On My Mind', and a remake of the classic Dr. Kucho! & Gregor Salto tune 'Love Is My Game', which rises to the top of the charts just as fast.
2016 sees the guys score a gold record with festival favorite 'Make It Right', as well as produce one of the biggest tracks of the year 'Summer On You', together with Sam Feldt. It reaches high on the international charts, goes platinum while reaching tens of millions of Spotify plays.
In the meantime, the duo has played countless events all over the globe, including Sunburn India, Creamfields (UK), Sziget (HU), EMF Music Festival (FR) and Tomorrowland (BE). The Dutchmen are also often welcomed artists in Asia, North- and South America, and their touring schedule keeps on filling up every season.
Early 2017, Lucas & Steve keep things moving as they release 'Calling On You' featuring Jake Reese. Again, it gets picked up worldwide, receiving widespread DJ support from the most well known names in the scene. Presenting their brand new radio show 'Skyline Sessions,' it looks like the duo's star is only going to shine brighter this year.
Listen to Skyline Sessions LIVE Wednesdays at 12AM EST at 93.5FM in South Florida or stream from anywhere in the world by downloading our app 'Revolution 93.5'