---
What a good moment for Timmy Trumpet and ILLENIUM
Written by Davide on June 6, 2022
For some DJs, on top of their music career, it is a perfect moment.
We are talking about Timmy Trumpet and Illenium, which these days are about to change their lives. The first one, Timmy Trumpet, got married to his wonderful partner Anett Tomcsanyi last June 1st. They share stunning photos of the moments, and every fan goes on fire. Timmy said, "it was: "The greatest day of my life." And we can only congratulate them and wish them a good life.
ILLENIUM, too, dealt with some changes in his personal life these days. Indeed, while he was in Italy for a music festival, he decided to use the beautiful landscape of Lake Como to propose to his future wife.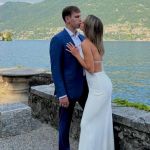 She is unknown to the music world and shares gorgeous photos that you can see below. Illenium posted on their IG: "She said YES!!! I love this hooman so incredibly much and am so lucky to get to share a life with such a kind, beautiful, strong woman! Love you babe!!."
---
Reader's opinions
---