---
Marshmello releases new music with Juice WRLD
Written by Davide on October 20, 2022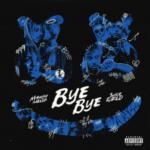 The American idol Marshmello keeps giving life to the music of the Chicago rapper Juice WRLD, who tragically passed away in 2019.
In a recent interview, Marshmello declared that he owns a lot of music written and composed together with his friend Jared (the actual name of Juice WRLD). While he wants to keep the music line intact, he also wants to release it in the future. So, last Friday, Marshmello returned to the scene with a new single named "Bye Bye" with the vocal by the talented rapper.
"Bye Bye" has a very calm mood and looks like a greeting to the young guy who passed away too early. The song mixes American trap and the Electro sound typical of Mello but is a calm ballad.
We are very grateful to Marshmello for his endless love of Juice WRLD's music.
---
Reader's opinions
---