---
This year, the two kings of Electronic music, better known as Kaskade and Deadmau5, have launched the new project Kx5. In case you missed it, we talked about it here.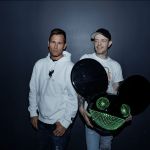 They debut with a single titled "Escape," characterized by a soft electronic sound. For the second release, the project chose to go down and proposes a song with a heavy bassline. The new one by the Kx5 project is named 'Take Me High' and caresses the progressive trance vibes from the '90s.
With only two songs, the Kx5 project shows what it means to make good electronic music. But if this is not enough, Kaskade and Deadmau5 have already announced that next year they will release an entirely new album under the alias Kx5.
So, what can we expect?
---
Reader's opinions
---