---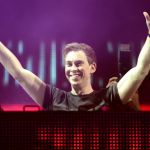 On September 7, 2018, Hardwell announced his indefinite hiatus from touring, stating that he wanted to focus more on his personal life. Since then he hasn't had any big live or club performances. Now, the fan expected a great return and many rumors about that could be real. Let's describe it below.
Ultra has the reputation to bring back retired artists or dissolved groups and no doubt this festival will have the big scoop. Clues to the king's imminent return are that his alphabetical place in the lineup is blurred, he was previously tagged in an IG publication (later removing his tag) and lastly, he would close the mainstage.
An interesting detail, though, is that Creamfields first shared a lineup poster with a blurred name, this time not too blurred out name stands out and later took it down, replacing it with a version missing it. Slotted between Hanna Wants and Headhunterz and on the alphabetical lineup, that alludes to an act starting with H, easy to assume that artist is Hardwell.
Tomorrowland, who just announced its full Lineup, with multiple stage hosts for its 2022 Belgium edition.
In this huge list, we find 700+ world-class artists who will be performing at the festival. However reviewing the performances of the last scheduled week and locating the Mainstage, there still remains an 'X' referring to this that a 'DJ' is incognito or yet to be announced. It could perhaps refer to Hardwell, but unfortunately, it does not match the alphabetical order of the artists on the last day of the show.
So, every clue brings us to think to a certain Hardwell returns on the stage. Will he perform a new music Genre? Will he return with a new Alias?
---
Reader's opinions
---